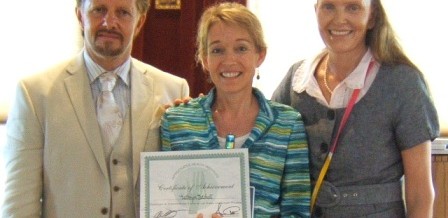 When Kathryn Tatchell of Victoria, British Columbia was diagnosed with colon cancer in April 2007, she underwent surgery then turned to InspireHealth, a world leader in cancer care that uses an integrated approach combining nutrition, exercise, emotional and spiritual support with standard cancer treatments.
The cancer went away for three and a half years then resurfaced in her lungs. She opted for chemotherapy as she continued her complementary treatments through InspireHealth.

She and her daughter Georgia Graham, 24, recently traveled to Malibu to attend a week-long program put on by Hippocrates Health Institute, a leader in the field of natural and complementary health care and education, headquartered in West Palm Beach, Fla., and run by Brian Clement PhD, LNC and Anna Maria Gahns-Clement, PhD, LNC.

Kathryn shares her journey:
Five months after I had surgery in June 2007 to remove the tumor from the colon, I went to InspireHealth. I changed my diet and they put me on a regime of supplements and vitamins, which I took for well over a year. There was a little bit of spreading to the lymph nodes, maybe after a year and a half, but nothing that anybody felt had to be treated.
It wasn't until last year, about three and a half years later, that it spread to the lungs. I had one six-month session of chemo last year but continued going to InspireHealth and taking lots of supplements and vitamins. I had acupuncture andmassages. I found the massages to be incredibly helpful with pain and overall wellness.
I was so healthy the whole time I was on chemo. I know I was exposed to so many bugs with four kids in the house. I never once got sick and I was the one with the compromised system.
I had heard about Hippocrates a few years ago. When I returned from Malibu I took the vitamins I bought from Hippocrates to InspireHealth and received approval from my doctor to take them. I've been taking more of the vitamins that Hippocrates recommend and phased my other ones out.  I had followed the program of what supplements to take while you're on chemo from the book Life over Cancer written by by Dr. Keith I. Block of the Block Center.
One of the things they tell you at BC Cancer Agency's Vancouver Island Centre is you are not allowed to take any vitamins or anything that is going to support your immune system. And you're supposed to bring everything in and have the pharmacist approve it. It's pretty upsetting for a lot of people who have been on a program of immune system support.
I took a lot of things to reduce inflammation. All of these things, which had been your friends, are suddenly your foe. It messes with your brain. At the same time, if you're going to be on chemo, you don't want to take something that is less effective. It's very confusing for people and that's why I followed the program from the Block Center. And I took multi-vitamins, which the pharmacists at the BC Cancer Agency's Vancouver Island Centre wouldn't have approved of anyway. It was a liquid one that was absorbed from the mucous membranes in your mouth.
Going raw and sticking to it
Hippocrates wanted me to go 100 percent raw. When I returned and told my oncologist I was expecting a bit of a fight because before I left she wanted to put me on chemo. But she was OK with me going raw. She said, "Let's give it three months."
Going 100 percent raw is quite a challenge to do and a lot to learn how to do it properly. I've stuck with juicing twice a day. I joined the local raw food group here and they have a monthly potluck dinner. I discovered there was no one doing 100 percent. They were doing 50 percent. I found it difficult to find support because it is challenging to be 100 percent raw.
I'm glad my daughter attending Hippocrates' week-long program with me. She can understand what I'm trying to do. She's eating a vegetarian diet and about 50 percent raw. She's juicing once a day. But she's about to move back to Vancouver.
On the bright side, I just connected with a woman, Samantha Young, whose son-in-law was the person who told me about Hippocrates a few years ago. She just moved here and she's one of Hippocrates' biggest success stories. It will be quite helpful for me to talk to someone who had cancer, who went to Hippocrates and followed their program and their cancer went away and stayed away.
Keeping the faith
Part of my challenge is holding the faith that it works. To come home and be in isolation, it's hard to hold the faith.
My cancer has gotten worse despite all of my best efforts. I thought I was going to be better. I know I haven't been as strict with the Hippocrates program, for example, as if I went to Florida for three weeks and followed the program.
I'm still taking in everything I learned from the week in Malibu. There was so much information in such a short amount of time. It takes a while to absorb it all. My daughter and I have been going back to our binders and reading things and listening to the lecturers that were recorded. When you're changing habits, some of them you do right away and some you forget about.
One of the big hurdles is sourcing your vegetables. Juicing that much is a lot. I was lucky I was able to find a good source for the sprouts. I've tried a couple of times to grow sprouts and I haven't been too successful. I think I can do some of the broccoli, radishes and alfalfa in a jar.
I've had some struggles on the raw food diet because I'm so small. I'm 5-foot-3 and was about 112 pounds. My weight dropped down to 90 lbs. I couldn't afford to lose any weight. I was so worried about it and called Anna Maria at Hippocrates. She told me I should start eating some cooked food and get some weight back on. I've gained three pounds.
In addition to the diet, I'm going to have to look at doing some other things because I can't let it get out of control. I don't plan to go back to chemo. Over the weekend we had a mastermind session with my parents, fiancé and kids — my support group. We wrote down things that we could do. Everyone feels more of a part of it. It's good for them to know where I'm at and what I'm thinking.
My daughter Georgia felt very frustrated because she moved back to Victoria from Vancouver last year when I went on chemo. She wanted to be here to help me. Now my numbers are back to where they were a year ago. I said, "You can't just stay here feeling like you have to look after me. You have to get on with your life. You don't have to stay here." I love having her here and having the support. But I don't want her to feel tied down. She's 24. It was an emotional time.
Last month InspireHealth opened an office in Victoria where I live so I no longer have to make the journey to Vancouver.  It will have yoga classes and meditation. There's a kitchen so it will have a nutrition component as well. InspireHealth is funded by the Canadian government and they're going to be opening more around the country. It's fantastic that the government is supporting integrative cancer care and that they're realizing that there isn't just one way of looking at things.